Fall in love with this perfeclty pumpkin scottish ale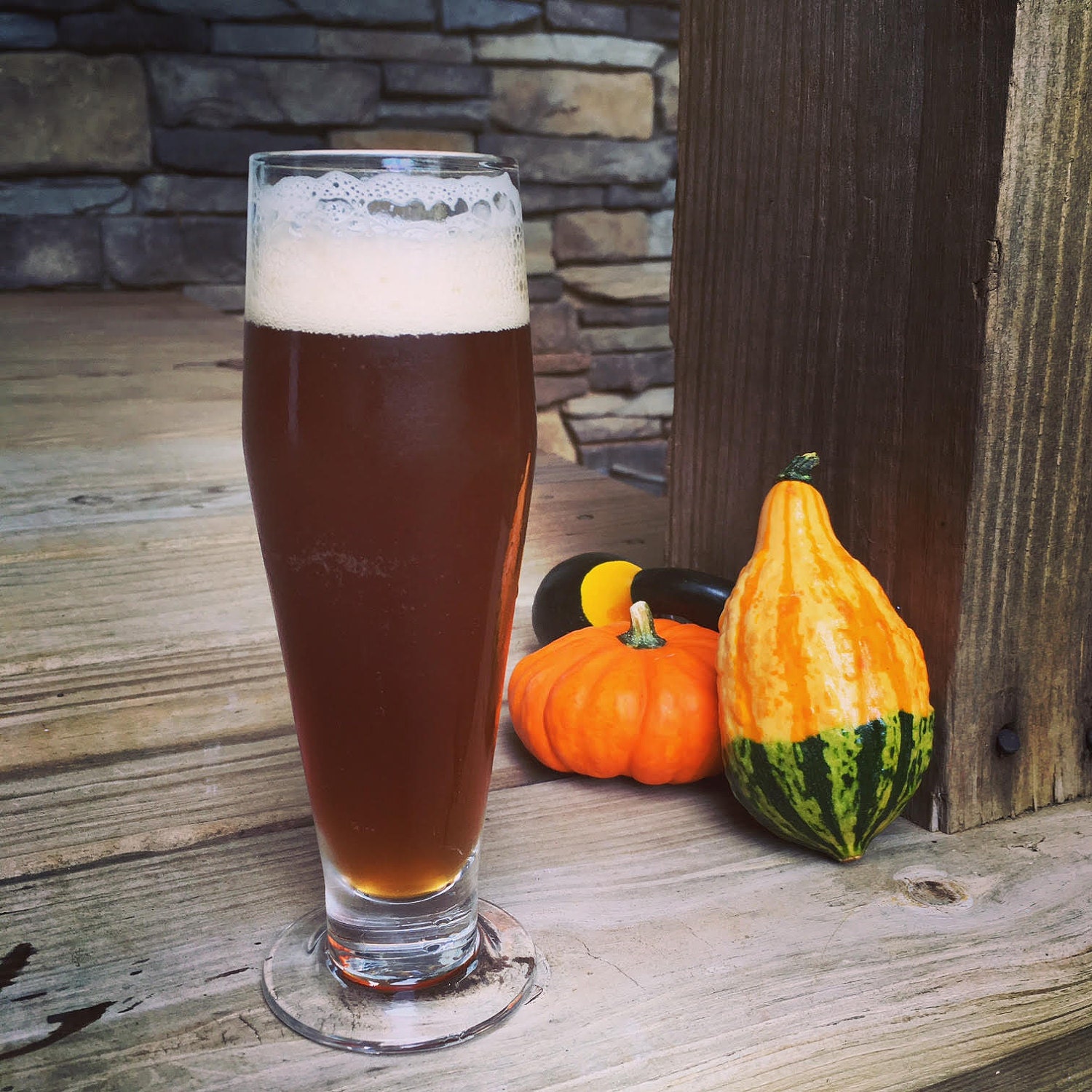 Fall is here and with the season comes a hefty does of pumpkin inspired treats. One must be careful not to get swept away in the sea of pumpkin spice and instead be selective in the search for true festive flavor. With this recipie, you will find a wonderfully balanced flavor of toffee, caramel, roasted pumpkin and warm spice. This is the pumkin beer to measure all others too, this is the Ballast Point, Pumpkin Down - A Pumpkin Scottish Ale. 
This recipie is actually from the Ballast Point "Homework Series" and can be referenced here: 
http://www.ballastpoint.com/beer-recipes/
Homework series #4:
"With a deep orange hue reminiscent of pumpkin pie,a Scottish ale is the perfect backdrop for this beer.A three hour boil enhances the caramel and toffee flavors provided by the British malts. Just before bottling,a small amount of spices are added to complement,but not overwhelm, the pumpkin flavor."
Compare that to the description of the Ballast Point, Pumpkin Down: 
"Some might think we're out of our gourd for making a pumpkin ale, but our Pumpkin Down is not like the others.  The caramel and toffee maltiness of our Piper Down Scottish ale is the perfect backdrop for a boatload of roasted pumpkin. Just before bottling, we add a subtle amount of spice to complement, but not overwhelm, the earthy flavor."
So, yea.. there is a very good chance these are the same thing, maybe it started out as homebrew competition winner and then made such a good impression that they went in to production, i do not know. The important thing is that this recipie is absolutley delicious and - LETS MAKE IT!! 
BALLAST POINT - PUMPKIN DOWN (5.5 Gallon)  
----------------------------------------------------------------
THE GRAIN BILL: 
9 lbs Marris Otter
.75 lbs - 40L Crystal
.5 lbs Melanoidin **
.5 lbs 20L Dark Munich
.5 lbs 120L Dary Crystal
.5 lbs Flaked Wheat
.16 Roasted Barley
**(you can also use .25 lbs of honey malt and .25 lbs of victory malt if your shop doesnt carry melanoidin)
THE MASH:
Mash temp: 154 degrees F
Mash time: 45 min
THE BOIL:
Here's the kicker, this recipie requires a 3 hour boil to gain the toffee and caramel flavors that are so important to this beer's flavor. You will have to adjust your mash/sparge water accordingly. We actually only did a 2 hour boil and the results were excellent, good toffee and brown sugar notes in smell and flavor. We'll leave this descision up to you.  
-AT THE 1HR MARK OF THE BOIL-
1.0 oz East Kent Golding (60 min)
1.0 oz UK Fuggle (0 min - Whirlpool)
FERMENTATION:
Ferment with W.L. London Ale Yeast at 68 degrees F (we made a 2L starter and oxigenated with pure oxygen - Our fermentation lasted about 2 weeks) 
Add 1lb of roasted pumpkin puree (canned pumpkin) to secondary. Rouse daily for three days. Cold crash and let it sit for a week to clarify. Make a spice tea by steeping 1 tsp. cinnamon, 1/4tsp. nutmeg, 1/4tsp. clove, and a pinch of salt with 16oz. boiled water. Stir cooled tea into beer inside bottling bucket (or keg) right before packaging. 
-------
Ballast Point really does a fantastic job with this one. 
This makes an incredible, toasty, carmely rich pumpkin ale that at times will really make you think of an actual slice of pumpkin pie. The earthy hops work great with the spices, the caramelization of the wort creates beauitifully rich toffee sweetness and the pumpkin just fits right in. We're keeping this recipie around for the years to come, and we think you will too. 
Cheers!